Chandler AZ Equestrian Overview
Homes Currently For Sale
21
Average Home Price
$1,381,729
Homes Built Between
1971 - 2018
Homes With A Pool
42.9%
Golf Course Properties
0%
By Property Feature
By Area
By Chandler Neighborhoods
Chandler, AZ Horse Properties Send Out the Welcome Wagon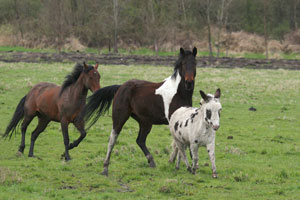 Horseback riding is both a favorite pastime and passion for many Arizona property owners. Luckily, equestrian homes for sale in Chandler bring the joy of riding right to your front door, or at least into your own backyard! In this city, you can find homes with magnificent mountain vistas and vast desert scenery, topped off with the spectacular Arizona sky that greets you each time you trot out of the barn and gallop around your new backyard. You'll find everything you long for in your new home, whether you want to quietly mosey down a nearby riding trail or embark on a fun-filled group ride with your family and friends.
Mosey Across the MLS for Chandler Equestrian Real Estate

Currently, you can find Chandler horse property on the MLS, despite the low number of equestrian communities. Equestrian homes in Chandler on the Listing Service were built between 1971 and 2018 and are priced between $389,000 and $9,990,000. As expected of any horse-friendly real estate, these homes pack plenty of square footage, as they come in a variety of sizes. Many of them also provide homeowners with useful amenities, such as pastures and corrals for your animals. Finally, if the ample lots and gorgeous views weren't enough, 42.9 percent of the properties for sale are homes with private pools, while some also offer private spas.
Broaden Your Search by Looking for Properties in Neighboring Cities
If you can't find the horse-friendly community in Chandler you're looking for, perhaps you'll be interested in Circle G subdivision in Gilbert. This equestrian neighborhood is full of luxurious horse-friendly homes that come with plenty of acreage for you and your favorite equine friends. Plus, it's located near the greater Phoenix metro area, which puts you close to the numerous shopping, dining and entertainment locations for which the city is so well-known. There are several Circle G Ranch communities throughout the Valley, so talk with your local realtor to find the ideal Arizona horse property for you.
Ride Beyond Your New Arizona Horse Real Estate

Chandler, Arizona provides a number of places to saddle up beyond your own property. For example, Rawhide at Wild Horse Pass provides more than just riding opportunities. You'll find a variety of specialty shops, live music shows, delicious dining spots and a full calendar of equestrian events and other horse-related activities. The Koli Equestrian Center offers public, private and group rides in addition to riding lessons and the popular weekend wagon rides. The Koli Equestrian Center also hosts Sunset Margarita Trail Rides and Wagon Rides.
Of course, you can always saunter over to Phoenix and other nearby Arizona cities for more riding lessons and events. Visit Cave Creek Trail Rides to get the lowdown on the area's history while you mosey, or take part in one of the popular breakfast rides at Ponderosa Stables and South Mountain Stables in Phoenix. Can't seem to get moving that early in the morning? The Stables also offer sunset dinner events. Desert Wide Properties has the experience and expertise to help you find just the right homes for you and your four-legged friends. Giddyup!
21 Chandler AZ Equestrian Homes For Sale
1220 N Kyrene Road, Chandler, AZ

$9,990,000



Who Made Heaven a Place on Earth? Impeccable 10.5 Acre Gated Estate in The Pristine Chandler-Tempe, AZ Corridor. The 13,600 ... View Full Details

Listing courtesy of: Realty ONE Group

ARMLS
21247 S 140TH Street, Chandler, AZ

$2,675,000



Prime location in Chandler with 9+ acres zoned R-43. Irrigated lot with water and electric to property. Located near freeways, ... View Full Details

Listing courtesy of: Keller Williams Realty East Valley

ARMLS
12506 E SCORPIO Place, Chandler, AZ

$2,600,000



This 7,200+ SF residence offers today's technology & old world elegance w/ only the finest luxury finishes & uncompromised ... View Full Details

Listing courtesy of: Launch Real Estate

ARMLS
2414 E CLOUD Drive, Chandler, AZ

$1,199,000



This is the one you have been waiting for! This full remodel was just completed in October in one of the areas most highly ... View Full Details

Listing courtesy of: Revelation Real Estate

ARMLS
1575 S VINE Street, Chandler, AZ

$875,000



This property is a one of a kind! Almost 2.5 acres of AGRICULTURAL land in a great Chandler location! No HOA! Run a farm, have ... View Full Details

Listing courtesy of: Revelation Real Estate

ARMLS
620 N TAMARISK Street, Chandler, AZ

$849,000



Don't miss this unique property in the upscale custom community of Indian mesa states in Chandler. Close to the 101 freeway, and ... View Full Details

Listing courtesy of: Arizona Elite Properties

ARMLS